Atsushi Onita would start his incredible journey that would eventually change Pro-Wrestling would begin in 1973. Onita's father had passed away resulting in Onita feeling like he needed to support his family despite his young age resulting in him dropping out of high school and joining the All Japan Dojo in 1973 before making his in ring debut on April 14, 1974 at Korakuen Hall at the age of 16 as he would lose to Akio Sato in his debut match.
Onita's charisma would help him out early in wrestling, as it would get him a spot as Giant Baba's assistant early on in his career. Onita would start out his career as a very good Junior Heavyweight wrestler show casing his high flying moves off the top rope. Onita would leave Japan in 1981 with Masa Fuchi and begin touring all around to gain experience in many different styles. They would find themselves in the Dominican Republic where Onita would be asked by the promoter to lose to him two times in a two out of three falls tag match which not only Onita would refuse but he would also end up stiffing the opponent during the match. This would result in the promoter getting Onita alone locked in a room backstage away from Fuchi to help save him as Onita would get beaten senseless and barely be able to move. Onita would need to take time off and get out of the Dominion Republic. He would reach out to an old friend in Terry Funk as Onita and Fuchi would move to the Double Cross Ranch in Amarillo, Texas and live with Funk's family until Onita would heal up. Funk would help get Onita and Fuchi get booked in Amarillo and San Antonio, Texas before getting them a spot in Memphis, Tennessee. Funk would end up purchasing an old Chrysler that was on its last legs for them and they were off to begin working for Jerry Jarrett's CWA promotion. Onita would learn the style of American booking, and hardcore wrestling in Memphis almost right away as he and Fuchi would take part of in a match against Eddie Gilbert and Ricky Morton which consisted of a brawl that would end up in the concession stands. He would also see barbed wire matches that would lead to extremely bloody fights in Puerto Rico. Video of Atsushi Onita & Masa Fuchi vs. Eddie Gilbert & Ricky Morton 1981
In 1982, All Japan's rival New Japan Pro Wrestling would become a huge success with Junior Heavyweight wrestler Tiger Mask, who was putting on an incredible matches with Dynamite Kid and The Cobra. All Japan would try to counter New Japan's success with their own Junior Heavyweight division, and would select Atsushi Onita to fill that role. Onita would return back to Japan and defeat Chavo Guerrero for the NWA International Junior Heavyweight Title. The All Japan Junior Heavyweight division could never match anywhere close to New Japan's, but Onita's style would begin causing his knees to deteriorate and begin breaking down.
The most devastating injury of Onita's career would happen on April 20, 1983, as Onita would end up accidentally slipping while leaving the ring following a match with Hector Guerrero after some water had spilt on the mat outside the ring which would result in Onita tearing ligaments and blowing out his cartilage and shattering his kneecap. Onita would need knee surgery and at the time felt like his career was over. Onita would rehabilitate and come back on December 2, 1984 against Mighty Inoue but he would not be able to do any of the moves he was known for as a Junior Heavyweight and Giant Baba would feel he was not fit to continue to be a professional wrestler. It was just All Japan and New Japan at the time, so Onita would be forced to retire from professional wrestling on January 3, 1985 at Korakuen Hall. Giant Baba who thought of Onita as a son would give Onita a retirement fund to help support Onita as he would look to make a career outside of professional wrestling.

Onita would use the retirement money to make investments which would eventually see him lose a majority of his money. Onita would have to begin working several jobs including construction but he would end up falling on the job and his knees would not allow him to continue. Onita would end up going in to debt during this time period and would find himself in jail for a period of time. After getting out of jail, he would be desperate for a job and felt like he needed to get back into professional wrestling somehow. Onita would end getting a job as a trainer and an office job for the JWP women's promotion. Being back in the wrestling world would just create a hole in Onita as it would make him want to begin wrestling again. A new small independent promotion had opened up in 1988 called Pioneer Senshei which had been started up by fellow former All Japan wrestler Ryuma Go as Onita would make his professional wrestling return after 4 years on December 3, 1988 losing to Gran Hamada.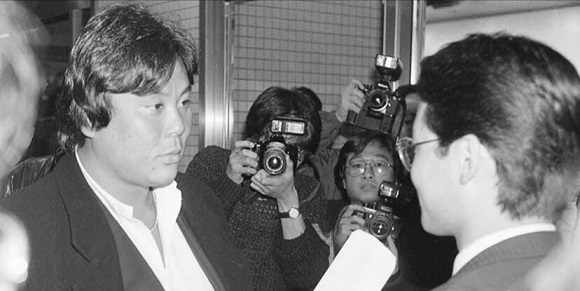 During this time, an explosion in popularity would begin for a promotion called UWF. UWF would be an alternative to the style that New Japan and All Japan had promoted for many years. UWF would focus their matches in a shoot style environment, making their matches look as believable as possible. Onita would see the popularity that UWF, and would go to a UWF show in 1989, and issue a letter of challenge to UWF. UWF President Jin would refuse to allow Onita into the show, after not having a ticket to attend, and Onita was force to leave. Onita would take this to the media and Onita would be seen as the winner as the "real" UWF would refuse to accept Atsushi Onita's challenge as if they were scared of an actual professional wrestler challenging them.
Atsushi Onita would look to show the UWF that he would be able to fight legitimate fighters so he would make a challenge to a top karate fighter in Masashi Aoyagi for a match on July 2, 1989 at Korakuen Hall in the WKA promotion which was a Martial Arts promotion that had mostly Martial Fighters but some wrestlers like Shinya Hashimoto compete on their shows in Martial Arts fighting. Onita would make it to the fourth round with Aoyagi until Onita would end up breaking the rules and attacking Aoyagi and using wrestling moves causing himself to get Disqualified. From what originally was suppose to be a show case of Onita's Martial Arts skills had turned into a Grudge now with Aoyagi.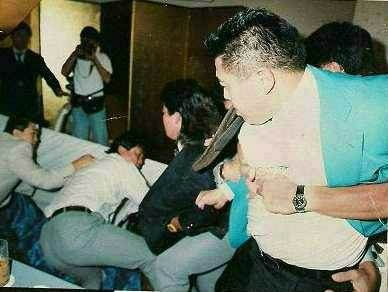 Atsushi Onita would decide after getting DQ'd in a Martial Arts match for using pro-wrestling moves that he would create his own promotion so that he could create his own rules to fight Aoyagi with both professional wrestling and Martial Arts being allowed in the matches. Atsushi Onita would announce on July 28, 1989 that he was starting his own promotion, Frontier Martial-arts Wrestling which would also be known as F.M.W. Atsushi Onita would get Kazuyoshi Osako and Mickey Ibaragi to help him start up the promotion as well Weekly Gong Magazine writer Wally Yamaguchi who had helped start up previous promotions and had some young workers that he could supply to fill out the undercards. Only two shows would be planned with both being main evented by Onita vs. Aoyagi with Pro-Wrestling and Martial Arts being used in the matches. The two shows would be held in Nagoya called "The Grudge in Nagoya" where Aoyagi was from on October 6, 1989 and in Tokyo called "The Grudge in Tokyo" on October 10, 1989 at Korakuen Hall in Tokyo. Wally Yamaguchi had several students training in a Dojo in his basement which included Shoji Akiyoshi and Keiji Takayama, the future Jado and Gedo were invited to the press conference as they were expected to be apart of the FMW roster with Yamaguchi helping the company. At the press conference, Onita and Aoyagi would begin to exchange heated words due to how their Martial Arts match ended with with Aoyagi attacking Onita and slapping him and beating him down until blood would begin to pour out of Onita's mouth with Onita having to be taken to the hospital.
After the conference, Onita would get in contact with friend Masaji "Tarzan" Goto who he wrestled in All Japan with. Onita would make Goto an offer to second him in the main event of the first show and wrestle on the second show. Onita would also open up a Dojo for women wrestlers to fill out the card of the two shows as Onita wanted the show how different these shows would be than a standard pro-wrestling show by having women wrestlers also on the show. The FMW Dojo would start up on September 15, 1989 with both and women being admitted to help fill out the shows. Eriko Tsuchiya, Miwa Sato, Kumiko Matsuda, Yoshika Maedomari, Yuki Morimatsu, Akihito Ichihara, Yukihide Ueno, Katsutoshi Niiyama, Masaomi Morishige, and Ryo Miyake would be apart of the first FMW Dojo class.
23 year old Shoichi Arai who had just gotten out of flying school with hopes of being a professional pilot before applying for the job as FMW Ring Announcer after seeing an ad in a pro-wrestling magazine. Arai would interview with Onita and referee Ted Tanabe with both of them very impressed with Arai's ability to speak very loudly. Arai would also end up working for the FMW office in Nishimagome, Tokyo where he would help with merchandise and tickets before eventually becoming FMW's Vice President.
The first FMW show on October 6, 1989 at the Nagoya Sports Center would turn out to be a huge success as they would announce 4,000 fans in a sell out for the event. The fans would be extremely enthusiastic throughout the show, especially for the main event that would see Aoyagi busted open while Onita would brutalized by Aoyagi's hard kicks until Onita's corner man Tarzan Goto seeing that Onita was not going to give up no matter what, decided to throw in the towel to prevent Onita from being seriously injured. Onita disgusted in Aoyagi's win would charge after Aoyagi, and a brawl inside the ring would occur between the FMW wrestler and Aoyagi's World Karate Association fighters something that just had never been seen in 1989.
The next show at Korakuen Hall on October 10, 1989 for "The Grudge in Tokyo" would be a rematch against Masashi Aoyagi. Korakuen Hall fans known for being the smartest, and most hardcore wrestling fans in Japan would attend the show and the show would be announced as another sell out. Atsushi Onita would finally one up Masashi Aoyagi by defeating him with his signature pro-wrestling move the Thunder Fire Powerbomb as the two would embrace and it would seem their feud was finally over after Atsushi Onita finally defeated Masashi Aoyagi after the third try.
Atsushi Onita, Kazuyoshi Osako, Mickey Ibargi would meet the next night at a restaurant in Tokyo and would decide due to the success of the two shows, that there new goal would be keep running FMW for one year. FMW would become a regular touring company. Onita would be the owner of the company, Osako would be the President and Ibaragi would be the Vice President. The next problem would be finding a ring as it would be extremely difficult to get one and very expensive to buy one but eventually Onita would get it done.
FMW would continue their partnership with the World Karate Association as Mitsuhiro Matsunaga and Jerry Blayman the future Jerry Flynn would be booked for the next tour. Although Shoji Akiyoshi would only end up working one show for FMW another talented wrestler that was also training in Wally Yamaguchi under the name Monkey Magic Wakita would booked by FMW. Onita also would would bring in Masanobu Kurisu, and Sambo Champion Fumiharu Asako. They would also bring in Midgets Tiger Jackson and Little Devil. They would also bring in foreigners like Crusher Dennis, the future Phineus Godwinn, Jos Leduc and Dick Murdoch and foreign women like Princess Delta Dawn and Despina Montagas who would go on to marry Tarzan Goto.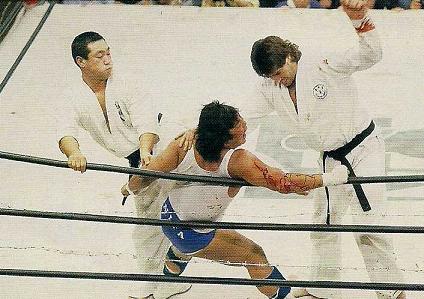 The second show at Korakuen Hall on December 10, 1989 would have a much different style of main event than the promotions first show in the building. Atsushi Onita and Tarzan Goto would face the karate fighters of Mitsuhiro Matsunaga and Jerry Blayman who would later become known as Jerry Flynn in a Barbed wire Death Match. Onita who had learned about the Death Matches based on wrestling in Puerto Rico would include them in his matches to make FMW stand out even more. Onita would be kicked into the barbed wire which would shred his forearm with blood pouring out to sell how dangerous the barbed wire was with the fans going crazy at what they were seeing for the first time in Japan.
The relationships between World Karate Association would end soon afterwards as the group would end up joining with the Pioneer Senshi promotion instead and then Wally Yamaguchi and his Dojo students of Monkey Magic Wakita, Shoji Akiyoshi, and Keiji Takayama would also leave to help start up the new Universal Promotion led by Hisatsune Shinma and Gran Hamada.
Onita noticing the lack of talent for his women's division, would get in contact with three girls from 1986 All Japan Women's class that had been let go by the promotion due to so many girls wanting to be in the promotion. The three women would be Megumi Kudo, Noriyo Toyoda, and Reibun Amada. Kudo who had retired from wrestling was working as a Kindergarten teacher when Onita made her the offer to get back into the business and work with her two close friends with Kudo accepting. The three girls would be known as "The Outbreakers" as they would run and attack the FMW girls on March 10, 1990 at Korakuen Hall and Kudo and Toyoda making their wrestling debuts for FMW on March 13, 1990 when they would defeat the team of Miwa Sato and Yuki Morimatsu.

FMW's notoriety would begin to expand from word of mouth, and pictures from the magazines of the brutal matches. Atsushi Onita was known by his fans as a poor guy, willing to fight for his beliefs, and was willing to shed blood in his matches. Onita and FMW's cult following would begin to get bigger as time would go by. The wrestlers vs. karate fighters would begin to be toned down after Aoyagi had pulled out of the company after accepting a deal to work with New Japan, and the Martial Arts matches would mostly become midcard matches with Koreans being booked for those type of matches. A new style would begin to be emphasis in FMW, with Onita taking part in wild streets that would take place all through out the building. Onita and Tarzan Goto would team up on April 1, 1990 at Korakuen Hall in a Texas Death Match to face The Dragon Master Kendo Nagasaki and Masanobu Kurisu would take place where all four wrestlers would beat the living hell out of each other, and fight into the crowd, and hit each other with cowboy boots, a match that would just shock the fans attending that had just never seen anything of any sort in professional wrestling. Onita would end up pinning Kurisu in the match, and knocking him out long enough for the 10 count for the victory, in a match that at the time everybody who saw it, considered it the best match of 1990, as it was just so unique and brutal.
The FMW gates would continue to go up, allowing Onita to add to his roster. Canadian Independent wrestler Ricky Fuji who had been training Masanobu Kurisu's Gym would be brought in. Ricky who had also trained up in Stu Hart's Dungeon and who WWF had been interested but couldn't think of a role for him to bring him in. Ricky who wanted to return to his home country of Japan but couldn't find a spot in New Japan after already having quit their Dojo would get in contact with Onita to be brought in as a top heel to job to Onita in tag matches. Ricky would make his debut for FMW on May 12, 1990 in a quick squash match before losing to Onita in a tag match the next day.

Onita would take part in his match between wrestler against karate fighter when he would take on Korea's Lee Gak Soo on May 19, 1990 at Korakuen Hall. The match would be patterned after the Onita vs. Aoyagi matches for the first two FMW shows with Gak Soo delivering hard kicks to Onita's head, but Onita managing to take every kick to the head and still come back for several Fire Thunder Powerbombs to finish Lee Gak Soo off. Onita and Gak Soo would embrace after the match with Gak Soo having earned Onita's respect and the two would agree to team up at the next Korakuen Hall show against Sambo fighter Fumiharu Asako who had changed his name to Sambo Asako and karate fighter Mitsueru Tokuda. Tarzan Goto would become very upset with Onita for teaming with Gak Soo as he felt like Onita was turning his back on pro-wrestling by teaming up with a karate fighter as the whole concept of FMW was for Onita to prove that pro-wrestling was better than the Martial Arts fighters.
An angry Tarzan Goto would look to get back at Onita by bringing in a masked pro-wrestler to accompany him in his match against Ricky Fuji on June 2, 1990 at Korakuen Hall with the masked man being revealed to be Mr. Pogo. This would greatly anger Onita who would scream at Goto for bringing in Mr. Pogo with Goto and Onita getting into a confrontation and Tarzan Goto officially splitting from Onita and becoming a heel.
Onita's first ever singles match against Tarzan Goto would take place in front of only reporters and camera men taking pictures of the match for the Weekly Pro and Weekly Gong magazines as well as the Tokyo Sports newspaper. The match would be a Empty Arena match on June 24, 1990 at the Tokyo Shinjuku Island Gym, as Onita's favorite wrestler and was mentored by Terry Funk in All Japan who had a similar type of match with Jerry Lawler while in Memphis. The match would last 36 minutes with both wrestlers bleeding incredibly with the match going outside the Tokyo Dream Island Gym and in to the bushes with fans watching outside as Onita would manage to pin Goto in the bushes for the victory.

Onita's popularity continued to grow with the fans as he was becoming the most talked about wrestler in Japan. Onita would hire a bodyguard due to his popularity, a former kick boxer named Katsuji Ueda to wrestle on bigger FMW shows. Ueda would main event against Onita on July 16, 1990 at Korakuen Hall with Onita getting the win over the kick boxer to show that he was able to still defeat other style fighters while taking a huge beating. Onita's group following would also include many females, which Onita would take the opportunity to take full advantage of his new found celebrity life with a lot of women.
The dominant three woman team of Megumi Kudo, Noriyo Toyoda, and Reibun Amada would only manage to last 4 months after Toyoda and Amada would turn on Kudo who would become the number one babyface female for the company for the rest of her career.
Onita's next new concept to gain attention would be to be the first wrestling company to wrestle in the Sea. FMW on July 22, 1990 would place a ring in the Miyazaki Nichinan Sea close enough to land for fans to still be able to come and watch the show. A battle royal would end the show with the wrestlers being eliminated by thrown into the water. Onita and Goto would end up eliminating each other and would swim back to land where they would continue fighting while on land. Ricky Fuji would end up winning the Battle Royal as Fuji would side with the new Tarzan Goto and Mr. Pogo heel group to feud against Onita.
Due to the popularity in street fights for the promotion, Onita would decide to take it one step further, something that had never been done before. Taking the idea of how popular the barbed wire matches that he done throughout the year Onita would decide to put electricity in the barbed wire with every time a wrestler being sent into the barbed wire an explosion would be set off. Onita would use the idea on August 4, 1990 at the Shiodome to face Tarzan Goto in the match settle the score between them. The match gain incredible publicity, as many photographers would take pictures of the match earning the cover spot of the Weekly Shu Puro magazine. Both Onita and Goto would sell the explosions as the most extreme pain either had ever felt. Onita would manage to get the victory over Goto in the ground breaking match that would earn the two the 1990 Tokyo Sports Match of the Year. Onita and Goto would embrace after the match and put their differences aside as Tarzan Goto would return as a face and the number two man behind Onita. Earlier on in the show would be Megumi Kudo's first singles match against Noriyo Toyoda in a Street Fight with Kudo being thrown around and beaten by the bigger Toyoda with Toyoda getting the win. The match would show that Kudo was not yet ready for the rougher style of wrestling that FMW brought like Toyoda was. Toyoda impressed Onita so much during the match and what she was willing to do in a Street Fight type style match that Onita would give her the new ring Combat Toyoda.
After Tarzan Goto had turned babyface and joined Onita it wouldn't be much longer before Ricky Fuji would also turn babyface for the first time shortly afterwards on August 20, 1990 in Osaka after being pinned by Onita in a tag match. Mr. Pogo would become the main heel for the promotion to feud with Onita Onita would have his first singles match ever against Mr. Pogo on August 25, 1990 at Korakuen Hall in a Street Fight with Onita getting the win but it would just be the beginning of a long historic feud between the two.
With the success of the promotion, Onita would book FMW's one year anniversary show at the Sumo Hall for October 19, 1990. But Onita would end up making one of the worse decisions to sell the show to the public. Onita would go to San Juan, Puerto Rico on August 29, 1990 and attend a talent exchange meeting with Puerto Rico's WWC promotion. One of the key members of the office would be Jose Gonzalez, known as Invader 1 in the promotion, and the man that had murdered wrestling legend Bruiser Brody on the island two years earlier by stabbing him to death in the shower. During the meeting, Onita would be attacked by Gonzalez, Mr. Pogo who had been working for both promotions, El Gran Mendoza, Victor Quinones, and El Professo. Onita had brought in Japanese photographers for the meeting for them to take pictures and they would take pictures of Onita bleeding extremely badly from the forehead, and the chest. The blood from his chest would be apparently be because Gonzalez had stabbed Onita with a knife in the chest. Onita's idea for the angle would be to go to a hospital, and have the photographers take pictures of Onita being stitched up, and vowing revenge on Jose Gonzalez. Onita would not be able to find a hospital in Puerto Rico to stitch up his chest as every hospital would tell him at 1.2 inches deep, and 1.5 inches wide, the cut was not deep enough to be accepted into the hospital to attend it. They would finally find a doctor, who would give Onita two stitches from the cut in the chest, to allow pictures of it to be taken for the magazines. While in Puerto Rico, Onita would end up legitimately losing his Passport. Onita would turn it into an angle by announcing that somebody had stolen his passport during the attack, to force him stranded on the island, and not be allowed to leave, so that he could be attacked again. Onita would end up flying up to New York, and finally be issued a new passport by the Japanese consulate to allow Onita to return home back to Japan. Backlash from the angle would take place, as many fans would be outraged at Onita for doing such a stunt, after Bruiser Brody had been killed two years earlier by the same man, with many feeling that if Jose Gonzalez were to come to Japan, then it would kill FMW's fan base. FMW would actually be told shortly afterwards that they were not allowed in the Tokyo Sumo Hall, but not because of the incident in Puerto Rico that had just taken place but because people running the building were told what kind of style FMW ran on their shows, and the building would not allow any brawling or extreme bloodshed in the historic venue.
Onita begin bringing in more monster foreigners to come in for one tour and destroy his younger talent before the last match on the tour facing and losing to Onita. Victor Quinones would get in contact with a Florida Independent promotion about bringing into FMW a tall masked man to wrestle as The Gladiator and face Onita on October 1, 1990 at the end of the September 1990 tour. Quinones would get in contact with with wrestler Al Greene for the spot, but despite originally accepting the offer to come into FMW he would end up having to cancel after the WCW promotion had made him offer. The next wrestler to be contacted by FMW would be a wrestler known as Mike Awesome to come into FMW as The Gladiator.
The Gladiator would make his debut on September 20, 1990 at the Nara Kashihara Gym in one of the more unique shows. The ring would apparently never make it to the building and and FMW would have to set up mats in the middle where the ring would be instead for the wrestlers to fight on. The Gladiator would make his debut by teaming with Mr. Pogo taking on Atsushi Onita and Jimmy Backlund with all four wrestlers brawling all over the building before Mr. Pogo would get the pinfall over Onita to continue their feud. It would turn out that the ring not showing up would actually be a work as Onita had purposely made sure the ring was not set up in order to get publicity for the FMW name by having pictures of the show on the front page of Tokyo Sports. One of the top people over at Shu Puro the top magazine in Japan had actually came up with the idea to Onita with the idea of getting great pictures of the wrestling show with no ring for their magazine
The Gladiator would end up losing to Atsushi Onita on October 1, 1990 in Nagano in a Chain Match. Onita would be very impressed with The Gladiator due to his size and agility with the only thing lacking on his part was that he was suppose to be a heel yet was always looking happy and smiling. The next tour they would bring in a wrestler by the name of Mongolian Moolah and book him exactly like they had with The Gladiator but Moolah would be much fatter and not as impressive and FMW would decide against booking him again and get in contact with The Gladiator about returning to Japan as a regular in FMW starting in 1991.
Onita would end up deciding to book the FMW 1st Anniversary show on November 5, 1990 at the Komazawa Olympic Gym and would decide to pull Jose Gonzalez off the show quietly, and book Mr. Pogo who had also been part of the attack on Onita to take his place for the show. The show would be the biggest for the promotion at the time by drawing by drawing 7,352 fans for the show, the biggest ever for an Independent promotion. Atsushi Onita would end up defeating Mr. Pogo in a Texas Death Match at the biggest show in FMW history with both wrestlers bleeding after repeated head butts to one another and Onita piledriving Victor Quinones through a table and scoring the pinfall over Mr. Pogo who could not manage to get up at the 10 count with Onita being declared the winner. Onita would offer his bloody hand in respect to Pogo.
FMW would hold their first ever women's only show on December 22, 1990 to promote the likes of Combat Toyoda, Megumi Kudo, and Despina Goto as more than just midcard acts for FMW. The show would also have the Retirement match for Outbreaker Reibun Amada who had decided that she could not commit anymore to professional wrestling and would have her final match losing to friend Combat Toyoda. The main event would see Despina Goto due to her relationship with Tarzan Goto be booked as the monster and defeat Megumi Kudo in the main event although they would form a tag team afterwards to do battle against Combat Toyoda who had formed an alliance with FMW Dojo girls Eriko Tsuchiya and Yoshika Maedomari.
Many more foreigners would be contacted and brought in to form an alliance with The Gladiator including Big Titan through Ricky Fuji's connection in Canada and The Gladiator's cousin Horace Boulder, the nephew of Hulk Hogan would be brought in. Onita would also bring in bronze medal winner in Judo of the 1988 Olympics, Gregory Veritchev from the Soviet Union for the roster, who would become WWA Brass Knuckles Champion after defeating Atsushi Onita on February 27, 1991at Korakuen Hall with the name of the title changing afterwards to the WWA Martial Arts Championship.
Megumi Kudo would also start to become very popular as the main female babyface as after suffering another loss to Toyoda would finally be able to prove to the crowd that she could wrestle the more hardcore style that FMW brought as she would manage to defeat Combat Toyoda on March 28, 1991 at Korakuen Hall in the biggest win of career. It would also earn Kudo the cover of the Shu Puro Weekly Magazine due to her new found popularity.
Onita would face off against Mr. Pogo in a rematch on May 6, 1991 at the Osaka Expo Festival Land drawing a new record of 7,783 fans in another successful show, this time, another Onita idea would debut on the show, as his match against Pogo would be a Exploding Double Hell Death Match. Outside the ring, landmines would be placed on the barbed wire with Onita and Pogo throwing each other in the exploding barbed wire outside the ring. Both men would be extremely bloody during the match and Pogo's manager Victor Quinones would even end up taking a bump into the exploding barbed wire. The explosions would be much more impressive than the explosions used in the Tarzan Goto match back in August as a bloody Onita would manage to get the win over Pogo.
The next sight Onita would have would be to capture the WWA Martial Arts Heavyweight Championship from Gregory Verichev on May 29, 1991 at the Tokyo Ota Ward Gym in front of 5,235 fans with Onita once again using his pro-wresting ability to defeat the Judo fighter after Onita would hit a Thunder Fire Powerbomb to win the title.
As Atsushi Onita and FMW's popularity began to skyrocket, with Onita becoming a bigger name. Onita would accept a $25,000 dollar signing bonus by a company that would market laser disc of him to be released. Onita who was suppose to be known as such a poor guy and wore cheap clothes who was force to put everything into his matches because FMW didn't have much else to offer was beginning to change. Onita began attending shows in tuxedos and began driving a very expensive Mercedes Benz, as well as being able to afford nine expensive cameras to film the shows due to all the money that FMW was making. But Onita was still paying all the wrestlers as if FMW was still a promotion that needed every Yen to stay alive and paid the wrestlers very little and working in buildings that didn't have a locker room as the wrestlers were force to change clothes on the bus going to the next show.
The two men who had helped start FMW with Onita in Kazuyoshi Osako and Mickey Ibaragi would both become very frustrated dealing with Onita. Ibaragi whose video company was distributing the early FMW video tapes would slighted as Onita would begin without telling would begin to use the bigger BMG Video company to distribute the video tapes instead which would end up costing Ibaragi money. Mickey Ibaragi would part ways with FMW right away as Kazuyoshi Osako would join him in May 1991 as they would decide they would directly go up against Onita and FMW by creating their own hardcore promotion called W*ING.
Wrestling International New Generations, a new group of hardcore wrestlers willing to give it their all, and not have Onita screwing them around money wise or being the only one to gain any kind of recognition from the promotion with Osako being the President and Ibaragi being the Vice President. Mr. Pogo who would end up leaving FMW as well out of loyalty to Ibaragi as well as Victor Quinones would end up joining the rival promotion with Pogo being promised as the main guy of the promotion and Victor Quinones being promised the booking position and the man to book many of the Puerto Rican talent like he had been doing in FMW to join W*ING. FMW now had competition in the hardcore wrestling scene for the first time, and lost its number one heel and talent exchanger all at on time. FMW would be force to turn Tarzan Goto heel once again.
Atsushi Onita would name himself FMW President after Osako and Ibaragi would leave as it would be known to anybody that he was in charge of final decisions and to not fight him on them like Ibaragi and Osako had. Onita would make Ring Announcer Shoichi Arai the Vice President of FMW as well.
Onita's second feud with Tarzan Goto would start as Goto was battling Sambo Asako in a Barbed wire Death Match on June 21, 1991 at the Sapporo Nakajima Sports Center. Goto would begin to cut Asako up badly using the barbed wire including going after a cut in on Asako's arm that had become very deep and bloody. Goto instead of easing up would continue to just punish Asako until the referee would be force to stop the match due how deep the cut on Asako's arm had gotten. Atsushi Onita backstage would be furious with Goto for going after a fellow babyface in Asako like that and showing no mercy and trying to severely injure him. Goto would begin screaming back before walking away. Goto would end up turning on Ricky Fuji in a match on June 27, 1991 and siding with heel team of The Gladiator and Horace Boulder who would defeat the team of Onita, Asako, and Ricky Fuji on June 30, 1991 at Korakuen Hall with Goto pinning Ricky in the Street Fight.
FMW would not miss a beat despite the new direct competition and Onita's personal friend Takashi "Go" Ito at the age of 19, would join the FMW office. Go Ito would help with booking duties with Onita having the final say as well become the lead FMW referee due to his ability to speak both Japanese and English. Due to the success of the promotion, Onita would book two stadium shows for August and September. The August show not having that much pressure on it, as it would be a half concert, half FMW show with a very popular band in Japan having a show before the FMW show would start. The September show would be much larger, as they would book Kawasaki Stadium, and if not a successful show, the building was so huge, that an incredibly horrible gate would almost kill the promotion despite how hot FMW had gotten.
FMW would run in front of its biggest crowd on August 17, 1991 at the Torisu Stadium of 48,221 fans, but would have to split the gate with all the rock bands that had performed earlier in the show. There would be a four man tournament with Atsushi Onita, The Gladiator, Sambo Asako, and Jimmy Backlund facing off against one another, with the winners meeting in the main event, in the second ever Exploding Barbed wire Death Match. Onita would defeat Jimmy Backlund, and Sambo Asako would manage to defeat The Gladiator. The explosions would be much larger than the year before as Onita would end up defeating Asako after pinning him and Asako failing to get up by the 10 count.
Onita's popularity would continue to rise as he would begin using an idea that he had seen Terry Funk do in the early days of All Japan where he would take the microphone and begin screaming emotionally at the audience to show how much passion he had. Onita would also begin using the theme song "Wild Thing" to fit with his personality and character. The feud with Onita and Goto would continue to be setup for their Kawasaki Stadium show with Goto getting another shot at defeating Onita on the big stage.
FMW's biggest show in the two year history of the promotion would take place on September 23, 1991 at Kawasaki Stadium with Atsushi Onita once again against Tarzan Goto. This time the match would be an Exploding Barbed wire Cage Death Match, with a cage being made out of Exploding Barbed wire. The show would turn out to be a huge success and put FMW on the map after drawing 33,321 fans for the show to see Onita once again prevail over Tarzan Goto after pinning Goto with the Thunder Fire Powerbomb and Goto failing to get up before the ten count for the victory. FMW was now bigger than anyone had ever dreamed and Atsushi Onita was seeing more money and more woman than he had ever seen due to the success. Atsushi Onita and Tarzan Goto would reunite once again after the match and agreed to take part in FMW's year end tag team tournament.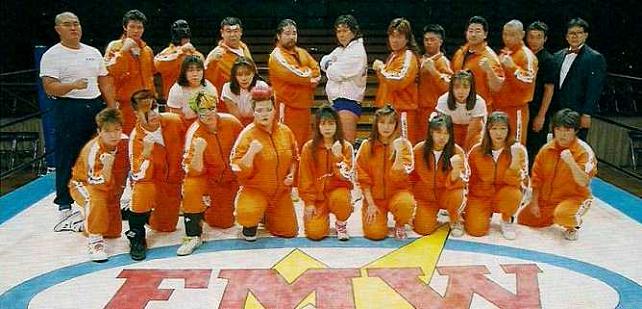 As FMW and Atsushi Onita kept getting more popular due to the death match style, they would phase the Martial Arts style out in 1992 and Onita would end up deciding to legally changing the company name from Frontier Martial Arts Wrestling, Inc. to just FMW, Inc. FMW was now just the name of the company and was not an actual acronym for anything anymore.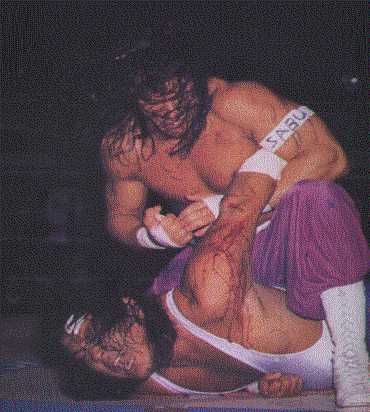 FMW would bring in many foreigners for the tournament to declare the first ever WWA Brass Knuckles Tag Team Champions to the winner of the tournament. FMW would bring in former Boxing Heavyweight Champion Leon Spinks, Lou Fabbiano who would go on to become Louie Spicolli, and a new tag team to Japan in The Sheik & Sabu. The Sheik had not wrestled in Japan since 1981, but still remained over by the Japanese fans for his antics and throwing fire in his matches, although he could not move around that well, his nephew Sabu would take responsibility to try and hide his uncle's weaknesses and Sheik wanted his nephew to become a name in Japan. Sabu & The Sheik would debut in FMW on November 20, 1991 at the Osaka Prefectural Gym and defeat the team of Mark Starr & Horace Boulder after The Sheik got the pinfall over Starr in just 72 seconds. Sabu would show a completely different style of hardcore wrestling than Onita by delivering wild acrobatic moves that had never been seen before inside of a wrestling ring. Sabu was willing to put his body on the line, just like Onita to make the fans get their money worth. Atsushi Onita & Tarzan Goto would end up winning the Tag Team Tournament to become the first ever WWA Tag Team Champions on December 9, 1991 after defeating the team of Gregory Veritchev & Koba Krutanize in the finals.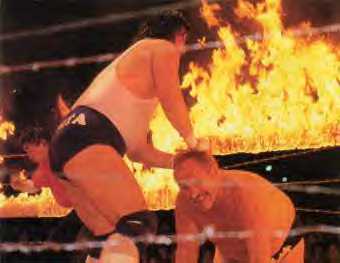 After having such successful barbed wire matches and exploding barbed wire matches, Onita would come up with an idea that he had learned from in Puerto Rico for another dangerous match that wouldn't cost as much as exploding barbed wire. Instead, they would light the barbed wire on fire in a match on May 6, 1992 in the Hyogo Sanda City for an outside show in front of 5,011 fans. Atsushi Onita would team up with Tarzan Goto against The Sheik & Sabu. A mistake that would turn out to be almost deadly as winds would start picking up before the match. The match would start, but the wind would knock the flames onto kerosene that had dripped off the cloth surrounding the barbed wire and the fire would begin burning the barbed wire off. Onita, Goto, and Sabu would all end up quickly getting out of the ring with minor burns as the match would be quickly declared a no contest. But the 65 year old Sheik would be left in the ring with the fire beginning to burn down everything as fire extinguishers rushed to put out the flames. The Sheik would be rushed to the hospital for smoke inhalation and third degree burns. Afterwards, the entire building would just be covered in black smoke with a burnt down ring with the barbed wire being completely burnt away. Even though FMW's rival promotion W*ING never would be as successful as FMW, they would end up delivering a successful Fire Death Match between Mr. Pogo vs. Mitsuhiro Matsunaga later in the year, but take it a step too far on October 31, 1993 when Jado would powerbomb Yukihiro Kanemura into fire, causing 75% of the skin on his shoulder to be burnt.
FMW would then agree to run two joint shows with the WWA promotion on May 15, 1992 and May 16, 1992 with the first show taking place in Tijuana, Mexico and the second show with FMW making its American debut in Los Angeles, California. Onita, Tarzan Goto, as well as FMW youngsters Eiji Ezaki and Masashi Honda, who had for the promotion for the past year in their first year in preliminary matches trying to gain experience. Eiji Ezaki would seem like a perfect fit for the Lucha Libre style, as he had shown great signs of being an incredible athlete and willing to become an excellent high flyer in the ring. Akihito Ichihara and Yukihide Ueno who were part of the original FMW Dojo would also work the shows as they had been sent to Mexico months earlier to learn to learn the Lucha Libre style. Onita would team up with legendary wrestlers Mil Mascaras and El Hijo del Santo on the first show in Tijuana and the second night in Los Angeles would team with Tarzan Goto and El Hijo del Santo on the second show in Los Angeles which would be much more chaotic FMW style match with all the wrestlers brawling all over the building.
FMW would return to Tokyo at the Ariake Coliseum for May 24, 1992 with Atsushi Onita challenging former Boxing Heavyweight Champion Leon Spinks in a Cage Match for the WWA Martial Arts Title. The show would end up being the first major show that would bomb financially for FMW as they would announce 7000 but more than likely draw a little over 5000 for the 12,000 seat building which would result in them never booking at the building again. Spinks who had defeated Tarzan Goto for the title back on March 15, 1992 and now it was time for Onita to earn a bigger name by defeating another legendary name in a match. A big problem would occur though as Leon Spinks would be one of the worst workers ever in the ring, and Onita would be the very last person to try and carry Leon Spinks to a good match. The match would turn out to be horrible, but Onita would get his big win over a celebrity, and more importantly get even more media attention.
Onita's reign would not last long as he would end up losing it to The Sheik, who at the age of 66 became the oldest heavyweight champion in wrestling history on June 25, 1992 at the packed Sapporo Nakajima Sports Center in front of 6,508 fans when Tiger Jeet Singh would make his FMW debut by attacking Onita before the match with his sword and leave Onita bleeding even before the match would start. Although Onita would manage to fight back by grabbing The Sheik's pencil that would be used to cut Onita's forehead even deeper it would all come to an end for Onita when The Sheik would throw two fireballs in Onita's face to score the victory for the title. The Sheik would then reward the WWA Martial Arts Title to Tiger Jeet Singh for his help in the win.
Onita would challenge Tiger Jeet Singh to a match. Tiger would only accept a match under his rules and that match would take place on June 30, 1992 in another first for FMW. A Jungle Death Match in the Ganryujima Forest, where an Exploding Barbwire ring would be placed in the middle of a jungle. Sabu would accompany Tiger Jeet Singh to the ring, and with all the outside interference, try to make the match something. The match would turn out to be awful, as again Onita was just not the person to carry somebody a horrible in the ring as Tiger Jeet Singh, and would end up taking all the exploding barbed wire bumps before being defeated by Tiger Jeet Singh in the rain. Onita would lay in the mud next to the ring defeated and embarrassed once again.
Combat Toyoda would break away from the group of Eriko Tsuchiya and Yoshika Maedomari and would reform her tag team with Megumi Kudo in August 1992. The two former All Japan Women's wrestlers were back together and would make a challenge to two current All Japan Women's stars in Bull Nakano and Akira Hokuto in a FMW ring.
FMW would book a show for September 19, 1992 at the Yokohama Stadium for a rematch between Onita and Tiger Jeet Singh in a Exploding Barbed wire Death Match. Although, the show would turn out to be a success with 30,000 fans showing up, it still would be considered a disappointment in FMW's eyes as they would bring in Bull Nakano and Akira Hokuto who would defeat Megumi Kudo and Combat Toyoda in a great match, Leon Spinks, legendary wrestlers John Tolos and Killer Kowalski as well as Tiger Jeet Singh and still not draw a bigger number than the year before at Kawasaki Stadium. Tiger Jeet Singh this time would end up being thrown in the Exploding Barbed wire and Onita would manage to get his revenge on Tiger Jeet Singh by defeating him with a Thunder Fire Powerbomb to win back the WWA Martial Arts Heavyweight Title.
FMW would again start their tag team tournament on November 20th, this time with Atsushi Onita teaming with Gregory Verichev and this time facing Tarzan Goto in the finals, this time with his partner being Big Titan. Onita & Verichev would end up defeating Goto & Titan on December 7, 1992 at the Osaka Prefectural Gym. As way of celebration, fans would follow Onita outside the arena to a bridge nearby. Onita to celebrate his victory would jump off the bridge into the water, but would end up coming closer to death than he'd ever realize and would have to be rush to the hospital after finding out the water in the river had been contaminated and with all the germs in the lake and all the cuts all over Onita's body would be an easy way for the germs to get in his body, and would cause a deadly infection. Onita would make a full recovery, but it would not be the only near brush of death for Onita. Atsushi Onita would return to the ring to defeat The Sheik on January 18, 1993 for The Sheik for The Sheik's United States title, a title that Sheik had held for his local Michigan promotion for over a decade. Atsushi Onita would announce afterwards that The Sheik was the one that deserved the title for holding it for so many years and would give the title back to him which would end the Onita and Sheik feud and form an alliance.
The new top heel group now that The Sheik and Sabu were babyfaces would be the newly formed Team Canada. Ricky Fuji who had turned on FMW on January 12, 1993 to side with Big Titan, The Gladiator, and newcomers from Canada in Dr. Luther and Dr. Hannibal to feud with Atsushi Onita and Tarzan Goto.
The new team of Atsushi Onita, The Sheik, and Sabu would not last long due to another scary and almost deadly event occurring in Atsushi Onita's life. During a match on February 16, 1993 in Fukuoka against The Gladiator. Ricky Fuji would interfere and would wrap barbed wire around Onita's head. As it would turn out, Onita would accidentally end up swallowing some of the barbed wire placed around his head. Onita would still finish the match, but during his victory celebration would make it obvious to the fans about something being wrong, due to the pain in his mouth. Onita would be taken to the hospital, where it doctors would take x-rays and find the barbed wire in his throat, and having to do an emergency surgery immediately to pull the barbed wire out of his throat. If the barbed wire had not been removed, Onita would have soon died from asphyxiation after his air supply would have been cut off due to the barbed wire. It would also cut his mouth every time he moved. Doctors would have to remove the barbed wire from the side of Onita's neck to avoid slicing his mouth open, which would have happened if they were to pull out from his mouth. Onita would be force to sit out for two months, the first time that FMW would be force to go on without Onita, and attendances for house show numbers would drop incredibly with Tarzan Goto as the ace of the promotion, which would be a telling story later in FMW. Onita would be force to come back 45 pounds less than when the incident took place as he would drop down to 195 after being 240 for most his run in FMW. Onita would be force to make a speedy come back as FMW had already booked a huge show on May 5, 1993 for Kawasaki Stadium with Onita getting to book his idol Terry Funk in a match against him. Due to the success FMW had at Kawasaki Stadium in 1991, they realized that was the biggest stadium that was going to get the most fans to attend their show, as most of FMW's loyal fans were in Tokyo and Kawasaki was less than a hour on the Subway. FMW would sign a contract with Kawasaki Stadium letting FMW be given the May 5th date every year at the stadium.
Onita would quickly return at Korakuen Hall on April 22, 1993 in a six man tag with Tarzan Goto and Sambo Asako against Ricky Fuji, The Gladiator, and Big Titan, and although The Gladiator would manage to score the pinfall over Sambo Asako during the match, Onita showed he was back, and was ready for the match he had wanted all his life.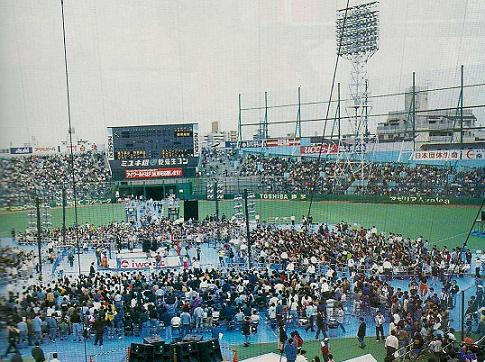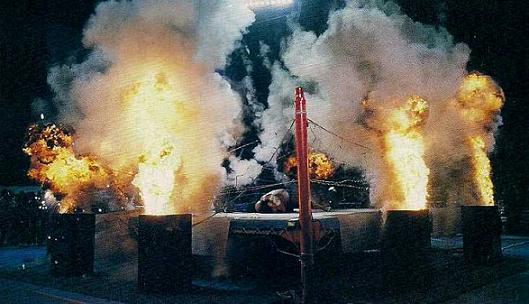 A new gimmick to Onita's death matches would be created for his match against Terry Funk on May 5, 1993, as not only would the ring have Exploding Barbed wire, but it would explode after the 15 minute mark during the match. The new stipulation and Terry Funk on the show would bring FMW fans in droves to the show, and the show would become the most successful show ever for the promotion by drawing 41,000 fans and bringing in over 1.8 million dollars. Onita would finally get to face his mentor in his own type of match, as both Onita and Funk would both be sent into the Exploding Barbed wire. Onita would manage to defeat Terry Funk with a Thunder Fire Powerbomb, with three minutes 46 seconds left before the ring would explode. Onita would clear the ring, but Terry Funk would still lay in the ring dazed with the clock still ticking. With less than a minute left until the ring would explode, Onita would rush back in the ring, and try to wake up Terry Funk, and get him out of the ring. With seconds left, Onita would just cover his body over Terry Funk's as an FMW ring would explode for the first time. The match would become a cult favorite all over the world, and would be covered in non wrestling magazines due to the bizarreness. Terry Funk backstage would show his thankfulness towards his former All Japan friend for doing what he did. Also, on the show Megumi Kudo & Combat Toyoda would begin making names for themselves in FMW in a different way, by having incredible matches, and this time defeating All Japan Women's Manami Toyota and Toshiyo Yamada in an incredible match. The friendship between Onita and Funk would sadly would hit a snide after Onita would only book Terry Funk for one tour after his Kawasaki match. Funk, who only agreed to put over Onita on his show, would become very sour towards Onita for not booking him only twice in one year, and having a rematch between the two after the first one drew so well, as well as his FMW bookings were earning Funk a very good deal of money, which was a reason why Onita only ended up booking him twice more, as well as a feeling that the rematch would not draw as well as the first match, and the rematch would most likely be Onita putting over Funk.
Onita would also begin to get the reputation as a hard boss to work for. While on a tour, Louie Spicolli would be on the foreigners bus, pleading the bus driver to make a stop so that he could use the bathroom. The requests would be denied, and Sabu would tell Spicolli to just pee in a bottle, and then throw it out of the bus which Spicolli would do. When Onita got word of the incident, he fired Spicolli on the spot, and Spicolli would never work for FMW again. Sabu would feel incredibly guilty for the incident, even years later while the two were in ECW, Sabu would always go to bat for Spicolli, because of the feeling that he was the reason Spicolli was fired from FMW.
Atsushi Onita was now a bigger star than ever having defeated Terry Funk, Tiger Jeet Singh, and The Sheik all in less than a year. Onita was still lacking a true arch rival to always go up against and that's when FMW would set their eyes on bringing Mr. Pogo back. FMW would offer Mr. Pogo a contract of $120,000 causing Mr. Pogo to quit W*ING as they would not be able to offer money anywhere close to that due to their financial struggles. Mr. Pogo would attack Atsushi Onita out of nowhere after a match in June 1993, and quickly make a getaway with a car waiting for him. Onita had his hated rival back, and would face off against him on July 24, 1993 at the Kitakyushu Stadium in front of 12, 030 fans for the first time since Pogo had left two years earlier in a Exploding Barbed wire, Double Hell Death Match. Mr. Pogo would blow fire on Onita causing him to fall into the Exploding Barbed wire Landmines, and with Onita down, Pogo would attack 60 year old Mr. Chin who was at ringside cheering Onita on. Pogo would grab the barely 100 pound Mr. Chin and throw him into the exploding barbed wire. Chin would be knocked out, but Onita would manage to make it back in the ring and after seeing what Pogo did to Chin, would throw Pogo into the barbed wire. No explosion would take place, so Onita would throw Pogo once again into the barbed wire, this time an explosion setting off, and Onita would follow with a DDT to score the victory Pogo. Onita would quickly go over to Chin to see his condition when Pogo would see the opportunity to blow fire on Onita's back with Onita's back being set on fire. Eiji Ezaki would quickly rush to the ring to cover Onita as Pogo finally would leave the ring. Onita would be taken to the hospital for the fireball being set on his back, while Ezaki would help Chin to the back.
A rematch would quickly be signed between Onita and Pogo on August 22, 1993 at the Osaka Hyogo Nishnomiya Stadium, as Onita would make the match, the first ever Exploding Barbed wire Cage Death Match, putting the Exploding Ring match idea from his match with Terry Funk, and the Barbed wire Cage match with Tarzan Goto into one match, as well as the winner becoming the first ever FMW Brass Knuckles Title, which would be based off the WWA Martial Arts Title that would come to an end after the Martial Arts style in FMW had become almost non existent. The idea would work, as the show would another successful FMW Stadium show, and would draw 36,221 fans, breaking the all time Osaka attendance record that had stood for 36 years when Lou Thesz took on Rikidozan in the city. It was clear that Onita and his ideas had become the biggest single draw in all of professional wrestling. Both Onita and Pogo would blade early in the match, with Pogo controlling most of the match after throwing Onita into the exploding cage and then by carving Onita's back with his sickle for a majority of the match, until Pogo would make the mistake of trying to blow fire at Onita once again. Onita would move out of the way, with the fire coming back in Pogo's face. Onita would take the advantage of putting the match away by trying to throwing Pogo in the cage, but Pogo desperately would grab referee Go Ito and try taking him into the exploding cage, but it would end up both Pogo and Go Ito being thrown in the exploding cage instead, knocking them both out, as fire still remained scattered around the ring after Pogo's attempted fire blowing. Onita would grab Pogo and DDT him twice in the fire, and grab Go Ito to make the count, but both times Pogo would manage to kick out. Finally, another DDT would finish off Pogo and Go Ito would count the three count for the Onita victory. But after that, Pogo and Go Ito remained unable to move, and with the clock ticking out, Onita would desperately try waking them up and getting them out of the ring. Onita would slap both of them to try and get them out of the ring, but would be unable to in time as Onita would lay his body over Go Ito as the ring would explode. Wild Thing would begin playing as Go Ito and Mr. Pogo would be stretcher out, as Onita would walk out of the ring, even more popular and a hero to the fans then when he entered the cage, as well as the first ever FMW Brass Knuckles Champion.
After two years with the company the two top younger talents in FMW would be Eiji Ezaki and Mr. Gannosuke. Ezaki who was Onita's favorite younger wrestler was becoming noticed for how talented he was and how good of a high flyer he was while Mr. Gannosuke who was Tarzan Goto's favorite younger wrestler was becoming noticed for how well he was in Death Matches and how much punishment he was willing to take. Onita would make a deal with AAA that Eiji Ezaki go to Mexico to learn the Lucha Libre style more so that he would be an even more polished wrestler once he returns while Gannosuke would be moved up higher up the card as one of Onita's main tag team partners.
Despite FMW's popularity increasing more and more, they were still doing something that every other promotion did to help sell tickets. They were in connection with the Japanese Mafia, the Yakuza. FMW like every promotion would get Yakuza members to buy large set of tickets for their shows, with the Yakuza either getting their own section in the crowd, or them selling it off to people interested in the tickets. The Yakuza would sit in their own section at FMW shows, with all the wrestlers being told when wrestling in the crowd, to make sure not and brawl in the Yakuza section. During a match involving Sabu and The Gladiator, Sabu would not listen to the orders given to him, and during a brawl in the crowd, would end up right in the section of the Yakuza, fighting all around them. After the show, the Yakuza would all gang up backstage and begin attacking Sabu, attempting to beat him to death. When The Gladiator would see what was going on, he would run towards Sabu, and begin fighting off some of the Yakuza members before grabbing Sabu and both of them running into the locker room and lock the door. The Yakuza would wait out for the both of them to come out, to kill them both when Atsushi Onita would be forced to talk to the Yakuza and apologize at what Sabu did, with the Yakuza finally leaving.
Another W*ING wrestler would shortly defect from the promotion and return to FMW in Mitsuhiro Matsunaga. Matsunaga who had wrestled in the very early days of FMW as one of Masashi Aoyagi's karate students, would make a name for himself in 1992 as a top hardcore wrestler and would become W*ING's ace for much time in the promotion. The fact that W*ING had lost its top babyface and heel to FMW would show the financial troubles that W*ING was going under, and FMW was capitalizing on it as Matsunaga was gaining the reputation as W*ING's Atsushi Onita. Matsunaga would challenge Onita to a match on December 8, 1993 at the Tokyo International Trade Harumi Dome in a match to determine the the real top hardcore wrestler. The idea for the match would be to have the most hardcore match ever between the two top hardcore wrestlers. The match would be a Glass Cage Death Match, where the cage would be made out of glass, with explosions inside of them, and once the wrestler would be thrown into the cage, the explosions would go off. The idea was not sanctioned safe enough for the promotion to the wrestlers or the fans at ringside. Instead, the match would be turned into an Exploding Barbed wire Explosive Corners Death Match. Former SWS wrestler Hisakatsu Oya and W*ING wrestler Hideki Hosaka would join the promotion and side with Mr. Pogo would defeat Tarzan Goto to get some heat back for the back to back jobs that he done for Onita in the past year. The show would turn into another success and sell out with 12,522 fans showing up to watch the top death matches wrestlers go at it. The match itself would turn into a disappointment, with Onita not letting Matsunaga not getting his fair share of offense in the match, before Onita would finish off Matsunaga to prove that FMW's ace was the better hardcore ace than W*ING's. After the match, Onita and Matsunaga would befriend each other, with Matsunaga joining Onita's FMW side to continue his feud with Mr. Pogo.
After the back to back wins by Onita over Pogo, Pogo would gain his revenge by scoring a victory over Atsushi Onita on January 6, 1994 at Korakuen Hall, but Onita would begin focusing on a brand new opponent in Genichiro Tenryu. Tenryu and Onita had been friends from Onita's All Japan days, and both agreed that an interpromotional feud between Tenryu's WAR and Onita's FMW would draw big for both promotions.
Both Onita and Tenryu would agree to work one show for each promotion, and with both wrestlers doing the job for one another as well. The first interpromotional match would be on March 2, 1994 at Sumo Hall in WAR, with Onita teaming up with Tarzan Goto to defeat Genichiro Tenryu & Ashura Hara after Onita would manage to pin the legendary Tenryu with a Thunder Fire Powerbomb to put Tenryu on the legends list of wrestlers he had defeated. Although, Onita had only pinned Tenryu in a tag match, it would be FMW getting more money based on the feud with a Atsushi Onita vs. Genichiro Tenryu match signed for May 5, 1994 at Kawasaki Stadium in an Exploding Barbed wire Cage Death Match, although Tenryu and WAR would get a cut of the show, just like FMW had for the Sumo Hall show.
The match would seem tame compared to the Pogo matches the year prior, without the cage exploding. But Tenryu was considered a traditional wrestler, and had never been part of a Death Match, drawing interests from the crowd, but not at the level Onita wanted. Too many fans knew that since Onita had pinned Tenryu at WAR in their tag team match, that Tenryu was going to defeat Onita to make both sides even. Onita would then decide to spice things up, by announcing that if he were to lose to Tenryu on May 5th, then Onita would retire from wrestling. That's what it would take to spark interest for the show, and tickets would begin selling like crazy, with no one knowing who was going to win. The show would become FMW's biggest success again to date, by drawing the biggest Kawasaki Stadium crowd ever at 52,000 fans, the first ever sell out of the huge stadium, and drawing 2.1 million dollars. For every knock at Onita for not being a true pro wrestler, the fact that he took his promotion that started with 400 dollars to one show making 2.1 million dollars in under five years showed that Onita was the biggest single draw, in any country in all of pro wrestling in 1994. Other matches on the show would see Terry Funk working his second tour, and final under Onita's control defeat The Sheik, as well as Mr. Pogo and Hisakatsu Oya retaining their FMW Brass Knuckles Tag Titles over Tarzan Goto and Mitsuhiro Matsunaga after Oya would pin Matsunaga. Then in the main event, with both wrestlers feeling the explosions, and Tenryu trying to make the Death Match into a traditional match with Onita, would work the longest Stadium main event ever at 23 minutes, 55 seconds before Tenryu would finally manage to pin with a Powerbomb to shock the crowd that Atsushi Onita would now have to retire from pro wrestling. Afterwards, Onita would announce that the stipulation actually meant that he would have to retire one year from the day at Kawasaki Stadium on May 5, 1995.
The rivalry between FMW and W*ING as the battle of hardcore promotions would come to an end on March 21, 1994 when W*ING would officially close doors after lost of money. But, shortly after, the same management would come together and with many of the same wrestlers, start another promotion called IWA Japan, which would again have Victor Quinones on management, to talent exchange with Puerto Rico. Before IWA Japan would even start, they would make an attempt to sign away an FMW wrestler. Victor Quinones would offer Eiji Ezaki who had began wrestling in AAA as Hayabusa to sign with IWA and become the promotions ace, and would offer him $3000 a month, and a $10,000 signing bonus, feeling that Hayabusa had the potential to carry the promotion with his in ring skills. Hayabusa would turn down the offer out of loyalty to FMW, and would stick with the FMW contract of making $500 a week while in Mexico.
Onita would begin running his one year long retirement tour, a way for every house show to be built as the last time of getting to see Atsushi Onita wrestle in their building. Onita would begin working a series of six man matches with Mr. Gannosuke & Katsutoshi Niiyama or Sambo Asako against Mr. Pogo, The Gladiator, and Hideki Hosaka in a Barbwire match with almost the same result for every show being Onita pinning Hosaka with a DDT or Thunder Fire Powerbomb for the win, to allow the fans to see Onita to spill water out of his water bottle all over the ring, and give his charismatic speech to the fans. Onita would also work one more WAR match on July 17, 1994 teaming with Tenryu and Bam Bam Bigelow in a 6 man, but afterwards the relationship between FMW and WAR would break off after Tenryu would become extremely upset that Onita had not paid him the cut he had promised for the Kawasaki Stadium show. It would be the second straight year and second straight friend that Onita had screwed over when it came to money. Onita may have been beloved by fans, and women, but many wrestlers were becoming tired of Onita's ways of business, as well as his ego, but knew better not to say anything in fear of their jobs, since it was Onita who was making all the money, and was the boss.
FMW's popularity continued, and Onita would decide to attempt another market to see if the popularity of the promotion was as strong, as it was in Japan. FMW would run three shows in Russia, at the same Stadium, on three straight nights. The idea would be to bring back Gregory Veritchev for the shows as the home town draw, but they would not be able to get him, and the shows would be nicely described as bombing big time. The announced crowds for the first two shows would be 600 with people at the show not believing there were that many fans in the Stadium. Onita would pull himself from the first two shows due to the horrible advanced crowd, and the Russian fans having no concept of the hardcore wrestling style that was being presented in front of them or who the wrestlers were would barely make any noise throughout the shows. Onita would put himself on the final show, and the show would manage to be able to claim over 1000 fans, but the three shows would tell FMW that they should never leave Japan again.
Onita would continue his year long retirement tour matches, when a wrestler from his past would come back and attack him after a match. The man would be Masashi Aoyagi, the man who had started FMW with Onita feuding with one another. A match would be signed for a rematch between the two almost five years after their last match against each other. Although, this time, it would be under Onita's rules. It would be an Exploding Barbed wire Double Hell Death Match on August 28, 1994 at the Osaka Castle Hall, drawing a sell out of 15,382 fans for the show. Eiji Ezaki would return to Japan after representing FMW in New Japan's Super J Cup Tournament, and wrestling in EMLL as the masked Hayabusa to defeat Sabu, who Hayabusa would wrestle a similar highflying style with. Sabu, who had a contract with FMW until May 5th, would agree to come back for certain tours to FMW out of loyalty for the promotion, being the one to get his name out there, but would not be returning after the end of the year, after becoming a hot commodity in America on the Independent scene, as well as ECW. Sabu would agree to do a job for Hayabusa, his last ever pinfall loss in FMW. Mr. Pogo would defeat Mitsuhiro Matsunaga in a renewal of their W*ING rivalry, and Tarzan Goto would manage to defeat Hisakatsu Oya, but afterwards the two would agree to form a tag team, and Goto would leave Team FMW once again. Onita would fight his old rival Masashi Aoyagi, and take the same hard stiff kicks to the head like years before, but this time would be kicked into barbwire, and then dropped into the exploding double hell barbwire. Onita's body would get sliced by the explode barbwire, and although in the end, Onita would manage to put away Aoyagi once and for all with a Thunder Fire Powerbomb, it would turn out the cut would be deeper than ever before. Onita would need 111 stitches after the match, an all time from a professional wrestling match, and making it 1,032 stitches overall from his body, another reported record, although this time, it would be more than any human being.
Onita's popularity continued to grow and grow, as his name was becoming a mainstream name to every person in Japan, fan of wrestling, or not. He would appear on Japanese talk shows, game shows, and commercials. The Japanese government would make Onita a national spokesman for AIDS awareness due to all the inflected wounds he had suffered throughout the years. Onita would also hold a party to celebrate the accomplishment of over 1,000 stitches, and would announce that Mitsuhiro Matsunaga would take over for him once he retired as FMW ace, feeling that Matsunaga was the only capable person to have the same style of hardcore matches to keep FMW going that Onita did. The feeling that Matsunaga couldn't draw would quickly come up by many in the company, and quickly make FMW management change their mind, feeling that Matsunaga was the ace of W*ING, a promotion that went under with Matsunaga as the top face, and Mr. Pogo as the top heel, which was the same formula that FMW was going to use.
Onita would recapture the FMW Brass Knuckles Title from Mr. Pogo on September 7, 1994 at the Sapporo Nakajima Sports Center, in a Double Hell Death Match, but after the victory, Onita would be jumped by former W*ING wrestler Yukihiro Kanemura who had just recently quit IWA, and would fight with Onita all over the arena. Kanemura would quickly show his alliance with Mr. Pogo, as well as babyface Mitsuhiro Matsunaga, who the two had been friends with during their W*ING days, as well as partners. Kanemura would ask Matsunaga to join his old W*ING friends, and Matsunaga would not say no. Matsunaga would then meet with Kanemura who was staying at a hospital, getting checked on for burns he had suffered over a year ago by being powerbombed into fire. Pictures would be taken of Matsunaga talking with Kanemura about joining the group, and once Onita got word from it, screamed at Matsunaga for turning his back on FMW and that he was removing Matsunaga from becoming the new ace of FMW, once he retires. Matsunaga would become enraged at Onita for taking away his spot as the promotions next ace, and coming to the conclusion that he had joined with Kanemura when he had not. It would upset Matsunaga so much, that he would join with Kanemura, and other former W*ING wrestlers.
Onita would come up with another new idea for a Death Match, but this Death Match couldn't be booked at just any building. It had to be booked inside of a Stadium that carried an Olympic size pool. FMW would book the Tokyo Jingyu Pool Stadium on September 25, 1994 with the idea of the main event being Atsushi Onita, Mr. Gannosuke, and Katsutoshi Niiyama against Mr. Pogo, The Gladiator, and Hideki Hosaka in an Exploding Barbed wire Pool Death Match. The ring would be placed in the middle of the pool, and the pool would then be set with dynamites, and every time a wrestler would be thrown into the pool, the explosions would go off. The show would sell out with 3,200 fans attending to see a brand new death match, but before the main event, Yukihiro Kanemura would make his FMW debut with Mitsuhiro Matsunaga against Tarzan Goto and Hisakatsu Oya, but it wouldn't take long in the match when Oya would end up turning on Goto, allowing Kanemura, Matsunaga, and Oya to triple team Goto as the ring would be surrounded by the giant pool. Onita seeing his friend being attacked by three men, Onita would decide to jump in the pool and begin swimming to the ring to make the save for Goto. Onita would brawl with Kanemura, Oya, and Matsunaga, and would even bodyslam Kanemura into the pool. Kanemura, Oya, and Matsunaga would retreat, but when Onita would go up to the bloody Tarzan Goto, Goto embarrassed and humiliated after turning his back on FMW and then getting turned on and having to be saved by Onita would refuse to look Onita and would take a boat by himself to the back while ashamed. Explosions in the pool would then be placed outside of the ring, with Onita's team and Pogo's team taking a boat to the ring. The ropes to the ring would be replaced and two sides of the ring would be placed with exploding barbwire. The wrestlers would be warned before going out to make sure not to directly land on the explosions in the pool, or they would be seriously injured if not worse. Katsutoshi Niiyama would be the first one eliminated after being thrown into the pool by The Gladiator to show the crowds the enormous explosions coming out of the pool once the wrestler was thrown out and eliminated from the match. Mr. Gannosuke for the first time would make a name for himself in the main event, and hold his own quite well after dropkicking The Gladiator into elimination, and then fighting with Mr. Pogo until both wrestlers would bring each other into the water causing both to be eliminated. This would leave Atsushi Onita against Hideki Hosaka, and although Hosaka would gain control of Onita early, Onita would fight back by throwing Hosaka into the exploding barbed wire and then pinning him with a Thunder Fire Powerbomb for the victory.
Mr. Pogo, The Gladiator, Hisakatsu Oya, Mitsuhiro Matsunaga, Yukihiro Kanemura, Goro Tsurumi, Hideki Hosaka and the newest member to FMW in Hido would all align with each other to create the W*ING faction in FMW. The faction still upset over Onita's FMW putting out W*ING years earlier was looking for revenge to destroy Onita's FMW. Former W*ING wrestler Hido would also join the alliance, as well as Masashi Aoyagi for certain shows.
Terry Funk's anger with Onita only booking him on two more tours after putting him over in Kawasaki would reach a boiling point as Funk would challenge Onita through the media to a one million dollar match, the amount that Funk felt he was owed by Onita. Onita would accept through the media to Funk's challenge, but Funk instead would then be offered a contract through Victor Quinones to join the IWA Japan promotion, that was picking up many foreigners. Funk would gladly accept the offer to join the rival promotion of Onita's, and soon after, the promotion would also pick up Cactus Jack due to getting Funk. The IWA Japan promotion would look like a legitimate threat to Onita and FMW which W*ING never had been.
FMW kept strong and because of the Onita retirement tour, and raised the prices to tickets for shows, as FMW's Korakuen Hall show on October 28, 1994 would draw a sell out of 2,150 and because of the rise of the ticket price, would make over $100,000 dollars for the show, something no other promotion had made for a Korakuen Hall show. With the money Onita was earning, it wouldn't be enough as Onita was hoping to use the money he was making personally for him to run for the Japanese senate, just like Antonio Inoki had done. Looking for publicity off of Inoki's success, Onita would challenge Inoki to an Exploding Barbwire match, and although Inoki would not turn down the idea immediately to not look scared of Onita, the idea would never even come close to the beginning stage of development in happening.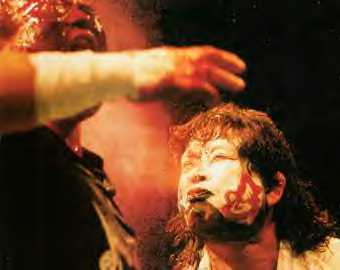 Tarzan Goto would agree to once again align with Onita and FMW to fight W*ING, and would team up against Mr. Pogo & Hisakatsu Oya on December 1, 1994 at the Hiroshima Green Arena. But it would not be Onita & Goto that would take place during the match, it would be their alternate ego filling in for the match in The Great Nita and Ho Chi Winh who were based off The Great Muta and Ho Chi Minh who was the founder and president of the Democratic Republic of Vietnam during the Vietnam war. The match would be a Exploding Barbed wire Death Match with Nita doing all of the Muta mannerisms and throwing Oya in the exploding for the pinfall victory. Onita would resume his Great Nita gimmick on December 20, 1994 in Nagoya and defeat Mr. Pogo once again in a Lumberjack match.
1995 would start with one of the former FMW originals retiring as Sambo Asako would announce his retirement and would face off against Atsushi Onita on January 5, 1995 at Korakuen Hall in his retirement match. Asako, who had been with FMW since the second show and Onita retiring later in the year, decided that his body could not hold up anymore injuries with all the beatings he had taken throughout the first five years and would decide to hang it up. Asako would give Onita one last emotional effort to try and win in his retirement match, but Onita would manage to defeat Asako in his last ever FMW match. Onita and Asako would embrace afterwards, with Asako getting away from the business and starting up his own bar. Onita's momentum would end on January 21, 1995 in Sendai after he would once again drop the FMW Brass Knuckles Title to Mr. Pogo. Onita would try to use the success of The Great Nita once again in a match on March 30, 1995 at the Yokohama Bunka Gym, but Mr. Pogo would counter with his own alternate personality Pogo Daio which meant King Pogo and Pogo would once again be able to defeat Onita.
FMW would then agree to take part in a thirteen promotional event at the Tokyo Dome on April 2, 1995 in what would be Onita's first ever match at the Tokyo Dome. Every promotion would send their own representative to best show case their own promotion, with Onita deciding another match between Mr. Pogo would best show fans that had not followed FMW what FMW was about. Onita would once again become The Great Nita, with Mr. Pogo once again becoming King Pogo. A problem for FMW though was that they would find out that the Tokyo Dome would not allow fire to be blown during the match, which was a part of every Onita vs. Pogo match. Although, the no fire rule would not help, it still would not matter as the match would end up being extremely bad and boring, without the screaming FMW fans cheering Onita on before Onita would make his come back and defeat Pogo. Another problem was that FMW would be the only promotion to have their own ring at a different part of the building so that they could have the Exploding Barbed wire in their match. Due to this, most fans would have a difficult angle in watching the match and not be able to see. IWA Japan would get their own personal victory over FMW as a match between Terry Funk, Leatherface, and Shoji Nakamaki would face Cactus Jack and The Headhunters would end up having a better match of the show. Terry Funk would become the oldest man to perform a moonsault off the top turnbuckle. It would be considered a victory for IWA, but FMW would have little time to focus on the rivalry between them and IWA, as they now had to focus on the biggest show of the promotions history.

Onita would decide to pick Tarzan Goto as his successor and the new ace of FMW who would challenge him in the main event of Kawasaki Stadium on May 5th. The match would be announced, but there would be obvious flaws that would make some people question the decision at first. Tarzan Goto would defeat Hisakatsu Oya on February 24, 1995 for revenge for getting turned on by Oya and once again being humiliated five months earlier. Tarzan Goto would leave Team FMW once again to turn heel and join Hisakatsu Oya who had left W*ING and this time with Ricky Fuji to start a new heel faction called Lethal Weapon.
Goto would turn heel to setup the Onita vs. Goto match once again, as Onita's retirement and the passing of the torch of the leader of FMW. But a huge problem would surface as with Goto a heel in the promotion and being setup as the ace of FMW it would mean either Goto would be a heel while the ace of the promotion or have to turn back babyface once again. Goto had just turned heel, and to turn babyface means that he would turned babyface right after turning heel for fourth time in the promotions five year plus history. Goto had never proved to be a draw by himself, as every show that was not headlined by Onita would drop significantly in attendance numbers, and putting Goto in the spot to take over for Onita would fail dramatically. Goto would also believe that he was going to take over all of Onita's powers, but instead Onita would decide to pick Katsutoshi Niiyama as the road manager going forward, the person to make sure everybody was on the bus' and everything got done during the tours. It would be a decision by a majority of the wrestlers who had issues with Goto who had been a tough trainer to most of the FMW wrestlers.
Goto extremely upset over everything transpiring would then be told that he was going to have to job to Atsushi Onita in the main event, killing any possible chance of him being a draw again by jobbing to Onita in the third straight big match between the two. Goto as well would become extremely upset over the fact that he was booked for a match on a WAR Sumo Hall show and as Tenryu no longer wanted Onita on his shows due to the money owed to him which would cause Onita not be booked on the show that Goto was on. Onita upset at Tenryu, would cancel the booking for Tarzan Goto, unless he was on the show as well. Goto was starting to feel like was being setup to fail and would be known as the man that killed FMW after Onita built it up for the last five years as with new management in charge there was the possibility of two new aces for the promotion coming up the ranks and surpassing him in popularity in Hayabusa and Mr. Gannosuke.
Mr. Gannosuke though would end up being the final straw for Goto though, as an incident occurring with Mr. Gannosuke and FMW would take place resulting in Gannosuke who had always thought he would never leave his home promotion of FMW, would end up quitting the promotion due to circumstances that Gannosuke has stated he will never tell and will take to his grave. Gannosuke would go to Tarzan Goto about quitting, with Goto stating that if Gannosuke was going to quit, then he was going to join him. Flying Kid Ichihara who at the time was going by the masked Rey Pandita gimmick would also end up joining the other two and no show the FMW April 21, 1995 Korakuen Hall show.
This made Onita even more upset over Goto no showing an event he was announced and booked for. FMW would offer the Onita retirement spot to Mr. Pogo for the main event, but Mr. Pogo being upset over the fact that he was not picked originally would turn the offer down. The feeling was that Onita and Pogo had been played out over the years, and done so many times including just a month prior at the Tokyo Dome which turned out to be a poor match might not go over well for the big Onita retirement show. There was even talk to cancel the show seeing that they could not find a suitable opponent for Onita, and just postpone Onita's Retirement until later, but with already over 40,000 tickets bought in advance, that was simply not going to happen. Goto with Gannosuke and Ichihara would hold a press conference on April 23, 1995 to announce that they were quitting FMW and forming their own group called "Real FMW" and they would end up appearing a week later for the rival IWA Japan promotion.
In less than two weeks, FMW had no main event for the biggest show in the promotions history. Onita would announce that Takashi Ishikawa would take the place for the retirement match with the hardcore FMW fans groaning at the thought. Ishikawa was a former All Japan wrestler and started the Tokyo Pro promotion, but had aged greatly and was not a good wrestler with no star appeal.
Onita would hold a press conference on April 30, 1995 to announce Takashi Ishikawa as the man he would retire against when Hayabusa would appear at the conference. Hayabusa who was returning from Mexico after 18 months was scheduled to wrestle The Gladiator on the show and return to FMW full time with the thought of him becoming the new ace of FMW would ask Onita to give him the opportunity to wrestle him at the show feeling that was the only way to become the new ace of FMW. Onita would become furious at the young Eiji Ezaki for interrupting the conference and would scream at him that the Lucha Libre style was extremely different than Death Matches. Ishikawa seeing the eagerness in the young Hayabusa would decide to step down from the match, and allow Hayabusa to be given the spot to face Atsushi Onita in the biggest match in the history of FMW with Onita eventually giving in and agreeing to the match. Onita would finish the tour by having the last match as The Great Nita on May 1, 1995 and then wrestling Mr. Pogo on the day before his retirement in one last dangerous match between the two. The match on May 4, 1995 would be a Double Hell Death Match, with Onita feeling the barbed wire one last time against Mr. Pogo. Mr. Pogo would blow fire one last time at Onita, but it would be Onita to use the fire as an advantage as Onita would bulldog Pogo face first into a chair with fire lit on it to win back the FMW Brass Knuckles Title.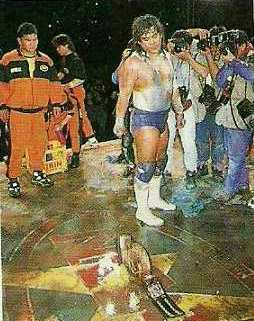 FMW would then run their biggest show in the history of the promotion on May 5, 1995 at Kawasaki Stadium, in front of 58,250 fans, drawing the biggest gate ever for the promotion at 2.5 million dollars. The crowd was so full for the show, that they book a standing room only in the back of Kawasaki to watch the show on the television in the back. Atsushi Onita would come out to the last time with the fans chanting "Onita" throughout his introduction for his final match against Hayabusa in a Exploding Cage Barbed wire Death Match. Hayabusa who had been pegged as the future of the company years earlier as it was known he was the best worker in the promotion, which is why he was sent to Mexico to learn knew that he was going to have to take an incredible beating in one match to try and take over Atsushi Onita's nearly six year legacy with the promotion. Onita would sell for Hayabusa throughout the match, but Hayabusa trying to make the hardcore fans respect and accept him would take one of the biggest bumps ever when Hayabusa would end being flown into the exploding cage made out of barbed wire at the exact time the ring would explode. Hayabusa's body would be cut open from the back to back explosions, but he would still fight back after the smoke would clear by reversing an Atsushi Onita Fire Thunder Powerbomb and turning into a hurricanrana into a near three count. Hayabusa after taking back to back explosions on his body would attempt one of the most dangerous spots ever by moonsault off the top of the cage, but missing Onita after Onita would move out of the way. Hayabusa's body had been beaten and sliced open, but Hayabusa would still manage to kick out of another Thunder Fire Powerbomb, finally Onita would finish off Hayabusa with back to back Thunder Fire Powerbombs to finally score the pinfall victory over Hayabusa in his retirement match. Onita would hug and poor water over Hayabusa's torn body out of a show of respect to the fight he put on in the match, and while Hayabusa would be stretcher off, the chants of Onita would turn into chants of Ezaki while being taken off. Onita would pour water on his FMW Brass Knuckles Title, as a show of him vacating the title. Onita would walk off being beloved by the fans, and the FMW hero would walk off into the sunset. Video of Atsushi Onita vs. Hayabusa 5/5/95 Exploding Cage Death Match
The problem with Onita riding off into the sunset as the hero of FMW, was that FMW was still running, and the hero was gone. Onita wanted to walk away FMW as the winner of his final match, and since he had nothing to do financially with FMW anymore, his ego came in front of FMW's business. The lost to Onita hurt Hayabusa right away in the promotion, with the feeling that Hayabusa was not as good as Onita. The promotion had been based on Onita since the beginning, and when Onita wasn't there, it was Tarzan Goto fill the void. This time it would have to be filled by a wrestler who had not tour in FMW for almost two years, in Hayabusa who would have to become the man for FMW.
Click here for FMW History Part 2
Click here for FMW History Part 3
Click here for The Wrestling Observer's column on Atsushi Onita and FMW from May 1, 1995